VGA2725
USB 3.0 to DVI-I Graphics Dongle
Description
SuperSpeed USB 3.0 interface is the next revolution in I/O interconnect standards that will deliver the bandwidth and features required by PCs, consumer electronics and communications devices. With 10 times faster throughput than USB 2.0 standard, USB 3.0 Graphic adapter enhances better VGA performance effect and reduce CPU loading substantially.
SUNIX VGA2725 USB 3.0 to DVI-I Graphics Dongle provides a unique solution to add extra displays to a computer without using traditional graphics cards. Users can instantly mirror or extend a desktop onto another display via standard DVI-I, such as LCD, CRT, projector and plasma displays. With USB interface plug-n-play and bus power feature, this product brings multi-monitor applications into the mainstream.
Features
Add-on monitor, LCD or projector through USB 3.0 or USB 2.0 connectivity.
Support widescreen aspect ratio of 16:9 Full HD 1080P video streaming.
High performance USB Graphics Engine supports resolutions up to 2048 x 1152 @ 32bit.
Low power consumption via USB Bus power supply (without Heat Sink).
Support desktop display mirror, extend mode, multi screen mode and screen rotation mode.
Up to six USB 3.0 graphic adapters to work simultaneously.
Automatic recognition of monitor type, resolution, and features.
Hot-swapping / Plug-n-Play of monitors without reconfiguration.
Movement of windows on the desktop is smooth, with no trail or shuddering.
Compatible with Windows power management hibernate and suspend modes.
Specialized for office using, home entertainment, and video playing.
Support Microsoft Windows operation system.
Certified by CE, FCC, VCCI, BSMI, C-Tick, and RoHS.
Application1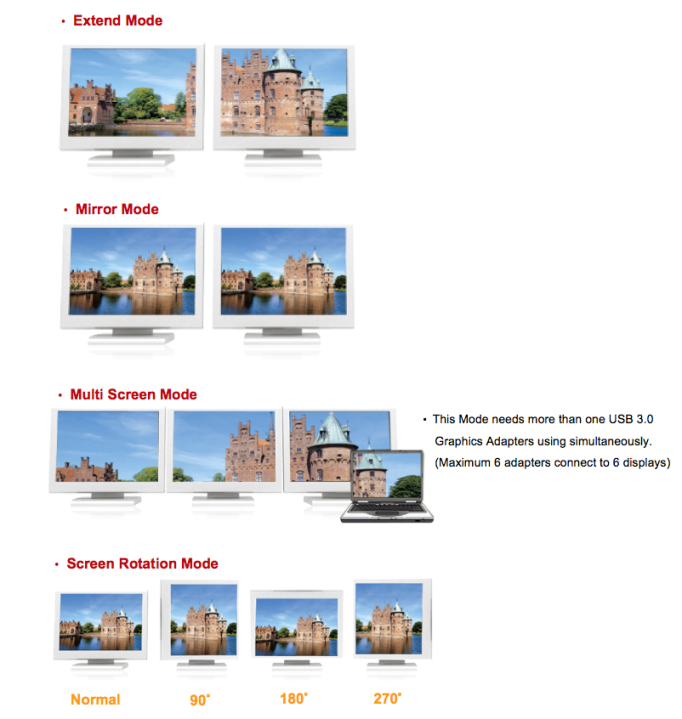 Application2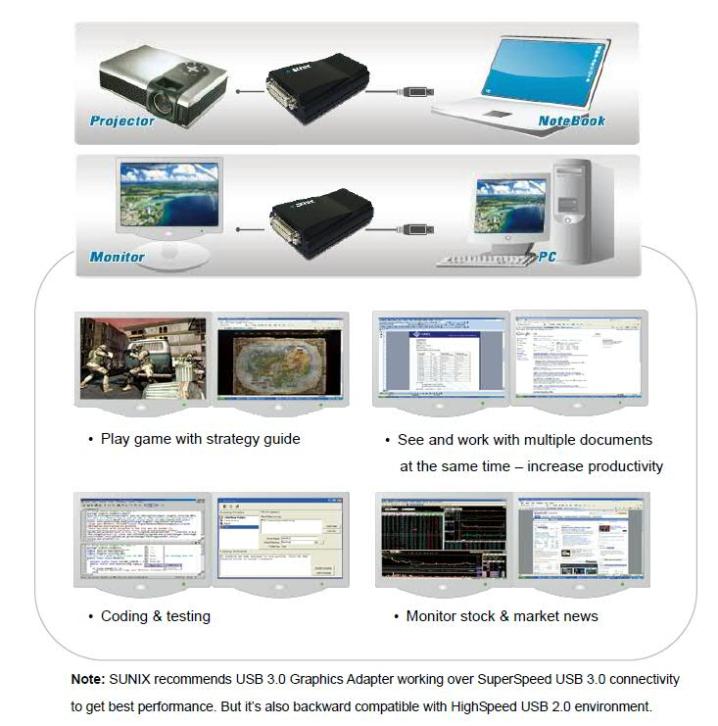 Specifications
 Interface

 Video Interface: DVI-I

 Bus Interface: USB 3.0 (Back compatible with USB2.0)

 Connector

 DVI-I Female Connector

 Host upstream link: USB3.0 Micro B Type Female Connector

 Memory
 64MB DDR Synchronous DRAM (SDRAM)
 Power Consumption
 + 5VDC / 400mA over USB bus power
 Support Mode
 Extend mode, Mirror mode, Multi Screen mode, Screen Rotation mode
 Resolutions
Resolution 
Name 
Refresh Rate
640×480
VGA
60 67 72 75 85
800×600
SVGA
56 60 72 75 85
1024×768
XGA
60 70 75 85
1280×720
720p
50 60
1280×768
WXGA+
60 75 85
1280×800
WXGA
60
1280×1024
SXGA
60 75
1366×768
WXGA+
50 60
1400×1050
SXGA+
60 75 85
1600×900
60
1600×1200
UXGA
60
1680×1050
WSXGA+
60
1920×1080
1080p
50 60
1920×1200
WUXGA
60
2048×1152
60
 Regulatory  Approvals
 EUR: CE, EN55022 Class B, EN55024, EN61000-3-2, EN61000-3-3
US: FCC Part 15 Class B
TAIWAN: BSMI: CNS13438
AS/NZS: C-Tick: CISPR22
JAPAN: VCCI
 O.S. Support

 Windows 8* (32/64bit), Windows 7 (32/64bit), Windows Vista (32/64bit),

 Windows XP (32bit) (Not compatible with Intel Atom Windows 8 tablets),

 Mountain Lion 10.8, Lion 10.7, Snow Leopard 10.6

 Environment

 Operation temp. 10 °C ~ 40 °C (50-104°F)

 Relative humidity: < 85% non-condensing

 Storage temp. -10 °C ~ 85 °C (14~176°F)

 Dimension
 56 (W) x 87(L) x 22(H) mm
 Case Material
 ABS
 Weight
 50g±5g
 USB Cable
 USB 3.0 A -Type Male to USB3.0, Micro B-Type Male
One USB 3.0 to DVI-I Graphics dongle
Driver CD
1 USB 3.0 A -Type Male to 1 USB3.0, Micro B-Type Male cable
Driver: Inbox-Driver
Version: Inbox-Driver

Update: 2016-06-21 11:59:17

Size: 124Bytes

OS:

Android 5 (Lollipop) onwards.

Google's R51 build onwards.
| | | |
| --- | --- | --- |
| Driver: Ubuntu | Version: V1.1.62 | |
| Update: 2016-06-21 11:44:56 | Size: 5.9MB | |
| | | |
Driver: VGA27X5-2
Version: OSX_2.51

Update: 2016-02-23 19:09:50

Size: 4MB

OS:

EI Capitan 10.11

Mavericks 10.9

Mountain Lion 10.8

Yosemite 10.10
| | | |
| --- | --- | --- |
| Driver: 4.DisplayLink_7.7M4 | Version:  7.7M4 | |
| Update: 2015-10-20 12:06:40 | Size: 18MB | |
| OS: Windows Vista 32/64 bit | | |
| | | |
| --- | --- | --- |
| Driver: 5.DisplayLink_7.6M2 | Version:  7.6M2 | |
| Update: 2015-10-20 12:07:36 | Size: 16.9MB | |
| | | |
Driver: 3.DisplayLink_7.9M2
Version:  7.9M2

Update: 2015-10-20 12:04:53

Size: 21.8MB

OS:

Windows 10 32/64 bit

Windows 8.1 32/64 bit

Windows 8 32/64bit

Windows 7 32/64 bit
Driver: 2.DisplayLink_OSX_2.4
Version:  OSX_2.4

Update: 2015-10-20 11:43:01

Size: 3.9MB

OS:

Mavericks 10.9

Mountain Lion 10.8

Yosemite 10.10
Driver: DisplayLink_Mac_2.2
Version:   Mac_2.2

Update:  2015-10-20 11:42:31

Size: 1.2MB

OS:

Lion 10.7

Snow Leopard 10.6
Driver: DisplayLink_Mac_2.3
Version:  V2.3

Update: 2015-01-14 15:48:54

Size: 4MB

OS:

MAC_Mavericks 10.9

MAC_Yosemite 10.10

MAC Mountain Lion 10.8
Driver: DisplayLink_7.7M3
Version:  V7.7M3

Update: 2015-01-06 09:37:44

OS:

Windows 8.1 32/64 bit

Windows 8 32/64bit

Windows 7 32/64 bit

Windows Vista 32/64 bit

Windows XP 32bit